Just saw this video of TII rehearsals that was not included in the movie here:
http://michaeljacksonhoaxforum.com/phpbb2/viewtopic.php?f=91&t=12364
I thought it was another newly revealed outakes, but when I went to youtube, the oldest upload date was actually 5 months ago. I think this is included in the DVD? Here's the vid:
What I find interesting is at marks 0:43 and 1:13, you can see a very healthy looking Michael by the way he dances with Travis. Well, we can assume that this is the TII rehearsals because you can see the same background like the alleged last rehearsal picture he had with the dancers where they were raising their hands up in the air.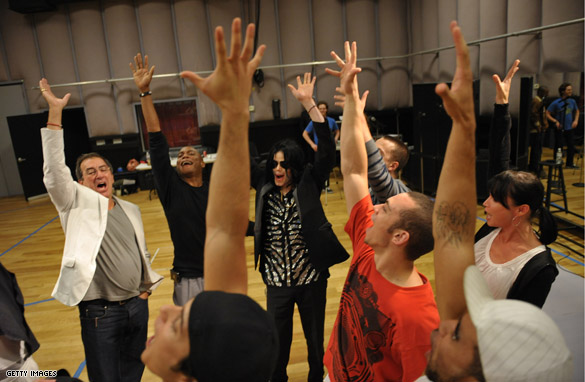 Although, I believe that even if he is in his 50s, he's still a great dancer but not as energetic as he was when he was in his 30's or early 40s. No one can escape aging even if the person is the KOP himself. Hehehe. However, in the video.. My gosh! It's like he never got old especially when they are dancing to the tune of "2bad"!
Same vitality of a young man who danced more than 10 years ago. See the head-bobbing/nodding? I don't know if it's because of the hair that's why he looks like he's moving his head vigorously and so looking energetic. Also, it seems to me that he's not thin at all. So who are they calling a drug addict?
I also find it interesting that when you watch Michael rehearsing on stage and Michael with Travis Payne experimenting on dance moves, I can see a difference (aside from the curly and straight hair). I don't know if it's just me or what.
Anywayz, I so love the "2Bad" dancing!